Choo Choo Goes to Calvary VBS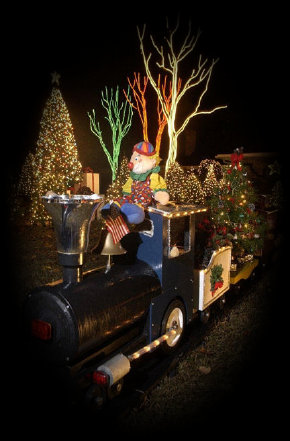 The Magic Christmas Train steamed over to Calvary Baptist Church in Alexandria, Louisiana, for Vacation Bible School, June 1-5, 2009. That's right! Our train was the "star" of the 2009 VBS at Calvary. The theme for this year's VBS was The Boomerang Express, so our train has a new, temporary name. Over 1,400 children and leaders "took a trip" to Australia where they experienced a unique look at the nation down under. The Boomerang Express taught the children that, in life, "it all comes back to Jesus". The Magic Christmas Train took center stage every morning as the children invaded the sanctuary for the opening services. They stared in awe of this beautiful train as she steamed through the sanctuary on a 72' long curved, elevated track. The children were told that The Boomerang Express travels around the entire nation of Australia where those "on board" get to see and experience the wonderful cultures and landscapes of this beautiful land.

The Magic Christmas Train brought joy to hundreds of children as they were "trained up" in the way of the Lord Jesus Christ.

Thank You Gene Ortis and Calvary Baptist Church for allowing us to be part of this AWESOME week!
Copyright 2012 © Walter and Jackie Monkhouse